As we wistfully watch the snow flurry disappear from our radar and bask in our moment of wintry bliss, we are reminded of the few months a year where we must dust off our winter attire and embrace those days of chilly temperatures.  As we continue into the last remaining months of winter, we wanted to provide you with a list of 11 indoor activities that are fun, engaging and will keep you warm while the weather is cold.
Wine & Design – 1331 Ashley River Road, West Ashley, SC – How about you and that special someone or your closest group of friends enjoy an evening of wine and paint.  Unlock your creative side while enjoying a nice velvety Cabernet or Malbec.
SkyZone – 411 Wando Park Blvd, Mount Pleasant, SC – Trampoline! Trampoline! Trampoline!  You won't find a better way to relief your body from a day of inactivity and work all those muscles than jumping on trampolines.
Coastal Climbing – 708 King Street, Charleston, SC – Yes, Charleston has indoor rock climbing.  Get out your gear and reach for the skies.
Museums – Charleston has some wonderful museums that can be shared with children and adults alike.  We would like to recommend two for you.  North Charleston Fire Museum and Charleston Museum.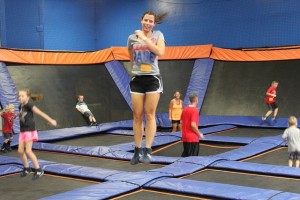 Comedy Anyone? – Charleston has a small but talented comedy scene and one worth checking out.  With a blend of localized humor and national subject matter, you are bound to find some great evenings of laughter.  We recommend Theater 99 at 280 Meeting Street with shows every Wednesday, Friday and Saturday and many shows on Thursday.
This one may seem a little silly for this list, but why not ice skating.  Carolina Ice Palace at 7665 Northwoods Blvd, North Charleston has skating 365 days a year including lessons, open skate, ice hockey leagues and party rentals.  We sometimes go just to watch a little league play.
Live Team Trivia – Throughout the Lowcountry bars and restaurants open their venues one night a week for competitive live trivia.  Play alone or bring ten friends.  This is an opportunity to have a drink or dinner, test your knowledge of history and pop culture and win some bar cash.  Find a local spot and stretch those brain muscles.
Storytime Hours – Charleston County Public Libraries – Our library system offers open story readings for all ages throughout the county.  Bring the infants and young adults for a day or night of imagination.
Charleston Rush Indoor Go-Karting and Lazer Tag – 3550 Ashley Phosphate Road, North Charleston – Open 365 days a year, this indoor fun park offers karting, lazer tag and an arcade to keep everyone's energy level high.
Redux Studios Adult Creative Classes – 136 St. Philips Street, Charleston, SC – From etching to drawing to painting, Redux offers classes to help you fine tune your creative skill set.  Register today and begin to share your talents with the world.