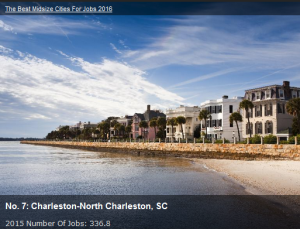 In the 2016 Forbes Survey for Best Cities for Jobs in 2016, Charleston / North Charleston ranked #7 for mid-size non-farming jobs growth in the United States.  The annual assessment reviews large, mid-size and small cities.  In fact, three South Carolina regions made the 2016 list.
421 cities were ranked based on employment data from the Bureau of Labor Statistics from 2004 through 2015. Rankings are based on recent growth trends, mid-term growth, long-term growth and the region's momentum. (source:  Forbes.com)
The top cities in this category in order of ranking include:
Provo-Orem, Utah
Fayetteville-Springdale-Rogers, Arkansas/Missouri
Fort Collins, Colorado
Ogden-Clearfield, Colorado
Savannah, Georgia
Cape Coral-Fort Myers, Florida
Charleston-North Charleston, South Carolina
Boise City, Idaho
Myrtle Beach-Conway-North Myrtle Beach, South Carolina
Stockton-Lodi, California
Sioux Falls, South Dakota
Fresno, California
Greenville-Anderson-Mauldin, South Carolina
Trenton, New Jersey
North Port-Sarasota-Bradenton, Florida
Compiled Statistical Overview of Charleston / North Charleston, SC provided by Forbes.
Charleston Technology Companies – Charlestonworks.com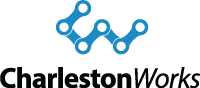 Dig South continues to support the growth of technology in Charleston with its annual conference and the work it conducts all year long to provide opportunity in the Lowcountry.