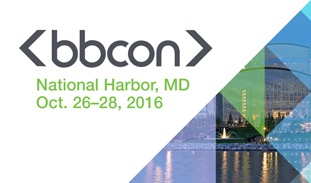 Media Release:  SOURCE Blackbaud, Inc.
Software leader kicks off bbcon 2016 with launch of Blackbaud Institute for Philanthropic Impact
CHARLESTON, S.C., Oct. 26, 2016 – Blackbaud (NASDAQ: BLKB), the world's leading cloud software company powering social good, today welcomed thousands of change-makers for its annual three-day conference. Nonprofits, education institutions, foundations and corporations gathered at the Gaylord National Harbor to explore innovation, network and share best practices at the intersection of technology and social good.
bbcon 2016 offers more than 200 expert-led sessions spanning topics from cloud innovation, big data and artificial intelligence, to Omni-channel marketing, the next generation of fundraising and more. Attendees will also hear directly from industry innovators like Microsoft and the UN Foundation.
Mike Gianoni, Blackbaud's president and CEO, kicked off bbcon 2016 by reflecting on the company's rapid innovation, highlighting stories of customer success and making commitment to make at least 40 strategic announcements throughout the conference.
Among the first major announcements was the launch of the Blackbaud Institute for Philanthropic Impact. In partnership with key influencers and organizations across the sector, the Blackbaud Institute will lead strategic research initiatives designed to provide direct, informative perspectives on best practices and other industry trends. "To see a healthy, sustained movement, the social good community needs to be able to access and leverage an ongoing stream of actionable insight," said Gianoni. "In collaboration with our strategic partners, the Blackbaud Institute will tackle the most pressing questions on the topic of philanthropy; equipping the world's change agents with the knowledge they need to contribute to a thriving ecosystem of good."
News of the Blackbaud Institute is receiving rave reviews out of the gate from leading voices in the market:
"Blackbaud has consistently demonstrated an understanding of how research and data can be used to inform our sector and help drive a collective rise in social good," said

Jason Lee

, interim president and CEO of Association for Fundraising Professionals (AFP). "It's exciting to see the company deepen its commitment to growing the body of knowledge and resources through the launch of the Blackbaud Institute."
"I see the Blackbaud Institute as a great resource for practitioners to stay on top of the latest research and expert strategies," said

Amy Sample Ward

, CEO of the Nonprofit Technology Network (NTEN). "For people working in philanthropy, it will arm them with the tools and skills they need to keep pace with ever-changing technology."
In conjunction with today's announcement, the Blackbaud Institute released a self-service resource library and "Sustainers in Focus," a report to help organizations understand how expanding recurring revenue can impact their bottom line.
Aaron Sherinian, chief communications and marketing officer for the U.N. Foundation also joined the main stage at bbcon to discuss the mounting importance of cross-sector alignment around the Sustainable Development Goals. "When governments, the private sector, nonprofits, civil society and individuals unify around the Global Goals, we are speaking a common language that organizes, collaborates and gauges progress within the social good movement," said Sherinian.
Blackbaud's Vice President of Data and Analytics, Steve MacLaughlin, shared Blackbaud's comprehensive approach to the Social Good Sciences™, which combines big data, artificial intelligence, analytics and unmatched expertise to give customers unmatched, value-added insight and capabilities.
Day two of bbcon 2016 will kick off on Thursday morning with major announcements from the leaders of Blackbaud's innovation factory, Kevin McDearis, EVP and chief products officer, and Mary Beth Westmoreland, chief technology officer. Also on Thursday, attendees will have the opportunity to participate in an event, called "Off the Grid at bbcon," that creates collisions between technologists and social good organizations. Attendees will have the opportunity to see the latest disruptive innovation from Blackbaud and then will vote for the creation they would most like to see built into the company's next generation solution lineup.
The #bbcon Social Media Lounge will be open throughout the conference, featuring pop-up session led by industry experts. Steve MacLaughlin of Blackbaud, Lyndal Cairns of NTEN, and Jeanette Russell and Rosalyn Lemieux of Attentive.ly (a Blackbaud company) are among those scheduled to present.
Media interested in attending to hear the major announcements during the conference should contact Nicole.McGougan@Blackbaud.com. For more information, visit www.bbconference.com. Follow the conference news on Twitter at www.twitter.com/blackbaud or like Blackbaud on Facebook at www.facebook.com/blackbaud. To learn more about the Blackbaud Institute for Philanthropic Impact, and for additional resources and supporting materials, visit www.blackbaudinstitute.com.
About Blackbaud
Blackbaud (NASDAQ: BLKB) is the world's leading cloud software company powering social good. Serving the entire social good community-nonprofits, foundations, corporations, education institutions, and individual change agents-Blackbaud connects and empowers organizations to increase their impact through software, services, expertise, and data intelligence. The Blackbaud portfolio is tailored to the unique needs of vertical markets, with solutions for fundraising and relationship management, digital marketing, advocacy, accounting, payments, analytics, school management, grant management, corporate social responsibility, and volunteerism. Serving the industry for more than three decades, Blackbaud is headquartered in Charleston, South Carolina and has operations in the United States, Australia, Canada, Ireland, and the United Kingdom. For more information, visit www.blackbaud.com.
Media Contact
Nicole McGougan
Public Relations
843.654.3307
media@blackbaud.com