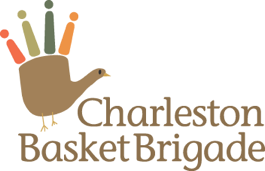 Michelle Scarafile and Pam Hartley began The Charleston Basket Brigade in 2008 with a commitment to bring the community together to provide Thanksgiving meals for families in need in Charleston, SC.  "When we found out that there were children going to bed hungry right here in Charleston, we knew we had to do something about it," said Pam.
In 2011, The CBB raised $75,000 which fed 2,500 families – over 15,000 people. The following year they fed over 3,000 families and in 2013 they topped that number by reaching out and raising enough money to feed 3,306 families – almost 20,000 people!   2014 was another success feeding 3323 families – and all delivered in the rain, no less… Michelle adds, "I'm sure our 2015 goal will be no different…  We plan on ordering enough food to feed 3,500 families (an estimated 21,000 people) for Thanksgiving.  To do that, we need to raise $105,000"
It only takes $30 to feed a family of 6 at Thanksgiving and we get donations from people in the community, as well as friends and family members that live out of state.  $30 goes a long way.
Every single penny that is raised goes towards purchasing food.   $30 feeds a family of six which includes a 12-13 lb. turkey, stuffing, potatoes, gravy, corn, green beans, sweet potatoes with marshmallows, cranberry sauce, a pumpkin or apple pie, fresh rolls and butter.  Each meal is assembled and anonymously hand delivered by CBB volunteers on the Tuesday before Thanksgiving.  Inside each basket is an anonymous letter that reads, "This comes to you from someone who cares about you.   All we ask is that you take care of yourself well enough to be able to do this for someone else one day."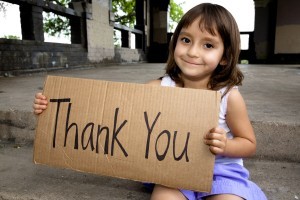 Communities In Schools; a non-profit organization that served over 13,290 students in 28 Charleston Tri-County schools in the 2014-15 school year, is an integral part of our effort.  They help The Charleston Basket Brigade to locate the families that will receive meal donations based on need and they are also invaluable when it comes to mapping directions for delivery.
Hundreds of local volunteers in the community, along with Carolina One staffers, raise money, assemble the meals at our staging area at the North Charleston Convention & Performing Arts Center and and then deliver meals to the families..  Momentum Marketing provides public relations and event coordination assistance.
The heart of the Charleston Basket Brigade also lies within creating a family experience for the recipients of these meals. When the families receive their Thanksgiving basket, they get to cook it together and then eat the warm meal they made as a family at the dinner table.  The responses from families that receive a basket from the group are overwhelmingly appreciative and often times tear-filled.  One parent said emphatically, "Oh thank you, thank you so much, prayers really do get answered."