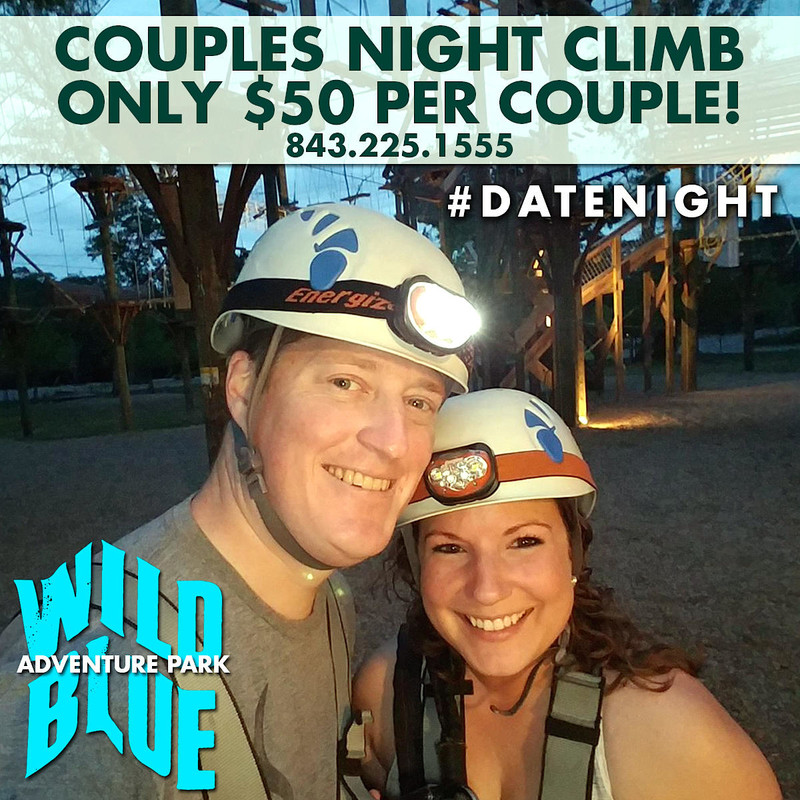 Thursday, January 19th, 2017
Bring along some food, some drinks, and some friends to make it a special night together on the ropes!
$50 per couple – Sorry, there are no discounts available for this special night!
At Wild Blue Ropes, we take the term "OUTDOOR ADVENTURE PARK" to a new level. Come test yourself both physically and mentally, all while having a blast in Charleston, SC!
• Go at your own pace as you navigate through the state of the art aerial high ropes challenge course.
• Participants can navigate through the 70+ course elements (from 15 feet to 35 feet high) while secured in using a special harness system.
• Some of the elements take a mastery or creative approach to crossing, others may test your balance or spatial skills. All are FUN!
Course Descriptions:
Outdoor Adventure Course Ticket
Access to all 3 levels.
Big Sky Challenge
It's always easy to spot the smiles on our Big Sky Challenge takers. This moderate challenge is on the first level of our course and an excellent step up from the Explorer's Gateway. Step out onto the platform 15 feet in the air and begin your exploration of high-up adventure!
Holy City Heights
Take the adventure seeking higher on this second-story level where you'll get to push your limits even further. Your balance and your mind are tested as you navigate through nets, tight wires, over and under obstacles, and along swinging bridges. Stretch your brain power as you figure out the best strategy to navigate this enticing adventure.
Wild Blue Yonder
Be prepared to push your limits on our most challenging course where you're 30+ feet high, swinging, climbing, and strategically maneuvering from one feature to the next. This exhilarating route is for those looking to take their level of adventure to—you guessed it!—new heights.
---
Tour Times
• Certain Thursdays from 6pm-9pm
---
Meeting Place and Check In Time
• Please meet at the Wild Blue Ropes office located at 1595 Highland Avenue, Charleston, South Carolina, 29412 near the intersection of Folly Rd and Highland Ave.
• Please arrive 15 minutes prior to your climb time.
• Once you arrive you can park in our free lot and walk over to our office.
• If lost or running late, call (843) 225-1555.
---
What to Wear
You should come dressed for an outside activity; please wear closed toed shoes & comfortable clothing (shorts OK!)! If you have a water bottle (preferably with a carabiner), PLEASE BRING IT WITH YOU — endless refills at no charge!