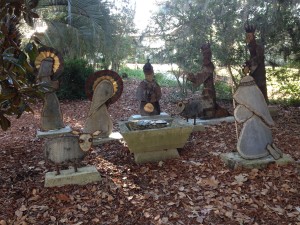 The Mensch has learned something new: creches are cribs, that is crèche is the French word crib. The Trappist Monks at Mepkin Abbey are having their annual Creche Festival with over 80 displays of creches and the Mensch is just one of a small army of volunteers who make it happen up there at Monck's Corner.
Over the years benefactors have donated creches to the Abbey; commissioned artists to create them for the Festival and the monks have bought them so that now their collection numbers over eight hundred. The variety is endless.
Along the path from the Gift Store to the The Clare Booth Luce Library, there are creches made of wood, marble, recycled materials, and copper. In the library, artists have carved juniper and other woods, glued oyster shells, sewn fabric, woven sweet grass baskets, painted papier-mâché, and hammered brass into interpretations of a creche.
The creches hail from Poland, Lithuania, Italy, North Carolina, Beaufort, New Mexico, Haiti, Ethiopia, and many other foreign places. One of the fun things about the festival is the vote for a favorite. Visitors are asked for their ONE favorite creche at the end of the tour. It is always a tough choice. The Mensch's volunteer job was to record the votes of visitors. Good thing it was pencil and paper and a big eraser. Some folks had no problem choosing a favorite: number 75, number 8, number 14. Others had a tough time: Not sure, it is between 14, 75 and 80, can I pick three?
cribs1
When the festival is over the Monks will tally the votes and the top three vote getters will be announced on the web site, www.mepkinabbey.org. Next year the winners are guaranteed a spot in the festival. A little competition is good for all.
There is no politically correct way to say this so I'll just blurt it out: this is a festival for shoppers who are mostly women. Based on the Mensch's observations, most of the visitors were women, retirees, and gray-haired guys who carried shopping bags for their wives. The gift store and the creche store are shoppers' paradise for those who have Christian religious gifts on their gift list. And, yes there is fruitcake baked by the Monks for your giving pleasure.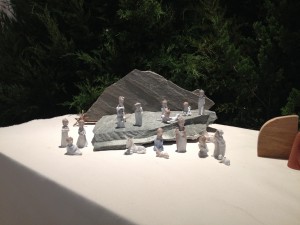 The Festival ends December 6th and if you can't make it, here are a few photos of what you missed.