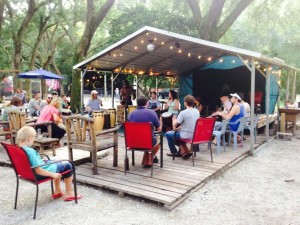 It is 7:00 PM on a Tuesday evening and faintly off of Folly Road, you can hear a repetitive rhythm coming from behind the fence at The Brick House Kitchen. Entering through the corridor you are taken to another place full of wonder, joy and spiritual release.
As I leaned against the wall, enjoying a cold beverage on a non traditional cool summer evening, I closed my eyes for a moment to hear the growing pace of the drum circle continue their harmonies.
As I opened them, a smile filled my face as I saw two hula hoop girls circling around a fire stick specialist who was in front of a white truck showing racing antelope from the African countryside coming from a projection machine nearby.
Children were on the ground getting their faces painted while being mesmerized by the fire flying in the air. One child had his arms and face painted to look like a lion. As he transformed, he ran around the grounds growling at the patrons.
Just to the right of the stage, an 85 year old woman was beating a small drum and dancing around laughing. She finished, laughed and clapped feeling more alive than ever. The circle was filled with an eclectic mix of percussion performers ranging from age 9 to 59. Both woman and men graced the circle with their skills all performing together in a cohesive display of unity.
The grounds were prepared for the carefree observers like myself with a tree swing, seats, benches and open chairs. As I looked around at the children drinking lemonade with rainbows painted on their faces and generations all celebrating life together, I was reminded of the true sense of community Charleston offers. With very limited resources, a Cirque de Soleil extravaganza was staged.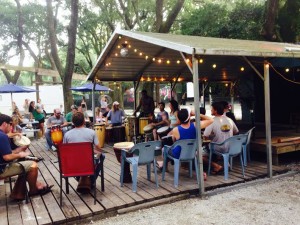 Just garbed in shorts and tee-shirts, this motley crew who came for one cause, happiness formed a circus of peace.
Where else can you drive a few miles, know your children are safe, watch fire twirlers, hula hoop artists, get your face painted, watch an African Animal documentary outside and hear beautiful percussion all in one place? Every Tuesday from 6:00 PM – 8:00 PM at The Brick House on Folly Road, you can. If you feel ambitious, Graham Whorley does a life show afterward under the stars.