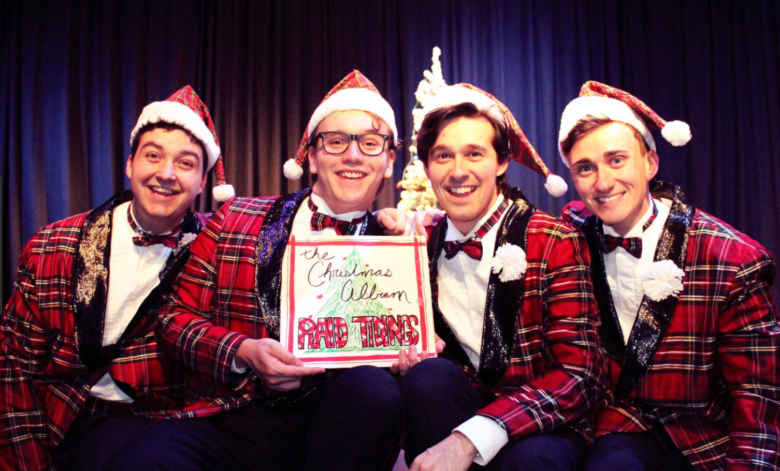 Forever Plaid: Plaid Tidings opens THIS Friday and plays through Dec. 17
ITS HOLIDAY SHOWTIME AT MIDTOWN THEATRE — and They're Back! Frankie, Jinx, Sparky and Smudge  – the legendary "Plaids" of Forever Plaid fame — will present the most hilarious, harmonic, musical comedy of the season in the Charleston premier of Forever Plaid: Plaid Tidings!  
Filled with your favorite Holiday standards, as well as your favorite doo-wop songs of the 50's and 60's, this truly "heaven-sent" holiday treat will lift audiences' spirits and fill them with nostalgia for a bygone era of classic music sung in perfect harmony. 
Forever Plaid: Plaid Tidings will be directed by Lowcountry musical theatre veterans Ryan Ahlert and Brandon Joyner, both former "Plaids" themselves. "It was a blast performing in the original Forever Plaid years ago with Midtown and Ryan", Joyner says. "Working together now as directors of the holiday sequel has been such a joy!"  Ahlert adds "This show is a nostalgic walk down 'Memory Lane' for the older crowd, and the perfect introduction to a fantastic era of doo-wop harmonies in music for the younger set. Come and bring the whole family!"
International Piano-Prodigy, Chee-Hang See, returns to Midtown as Musical Director, after his highly acclaimed debut in Charleston Musical Theatre with last season's "The Fantasticks."  Starring as "the Plaids" will be: Xan Rogers (Pippin, It's Only A Play) as "Smudge; Ryan Hendricks (Sweeny Todd, Spring Awakening, Tick, Tick, Boom) as "Jinx"; newcomer Michael Okas (It's Only A Play) as "Frankie"; and Justin Borak (Sweeny Todd, Dogfight, Almost Maine) as "Sparky". 
What the critics have said about Forever Plaid: Plaid Tidings:
 "… a polished holiday sequel to one of the most popular shows we've presented" – Seattle Times
"… light, entertaining, holiday fare for the whole family!"– San Diego Tribune 
"… 'Plaid Tidings' proves to be glad tidings for anyone wanting comfort food in their theater outing this holiday season." – Huffington Post  
"… a solid win for good, clean and wholesome holiday fun." -New York Theatre Guide  
"… one of the greatest holiday hits of the ages." – New Yorker;  
"…  Sweetly enjoyable holiday show… wonderful show to get you into the Christmas spirit." –New York Times 
Performances at Midtown's Cabaret Theatre, located in the new DUVALL CENTER – 2816 Azalea Drive, between Charleston and North Charleston.  (2-minutes from I-26 – Exit 216-B – Right on Azalea, DUVALL CENTER on the Left) 
7:30 PERFORMANCES:    December 1, 2, 7, 8,9, 14, 16
3:00 SUNDAY MATINEES:  December 10 & 17
Ticket Prices:  Adults/$29; Seniors&Military/$27; Students&Teachers/$20; Children under 15/$15
Discounted Tickets for Groups of 10 or more!
FOR TICKETS:  
Online:  www.midtownproductions.org