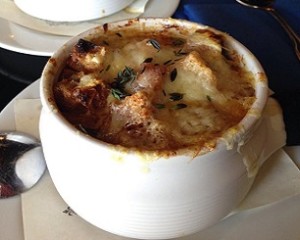 The evening began with a Super Tuscan red which complimented the palate with an explosion of flavors swimming down the throat.  Overall, the wine and bubbly selections are wonderful sectioned off by the boldness of the wines.
Before I go further, it is critical now that we have experienced breakfast and dinner to give a special recognition to the exceptional service provided.  From the articulation and polite demeanor of the servers, to the careful placement of plates and silverware, the servers are a big part of the whole dining experience.
Your dining journey will feel like a five star restaurant without the price.  Hidden deep in the heart of one of the many strip malls on Coleman Blvd, it is easy to get lost among the neon lights panning across end to end, but make no mistake, as you enter, you will have a memorable time.
We began with a warm asparagus salad that was topped with peas, peppers and a lemon vinaigrette.  The portion was just right for one or two to share.
Bistro Toulouse has a bit of a reputation for mussels, so we had to indulge in Mussels and Frites.  There are two options and a special to select from.  It wasn't difficult to know we wanted the Mussels and Frites with truffles and a truffle cream sauce.  This dish comes with bacon, but we chose to eliminate that ingredient.  At $14.00, this was a tremendous bargain.
This two course meal took up well past closing time as the conversation flowed nicely throughout the evening.  Therefore we had to pass on dessert.
The mussels were exceptionally light, but when complimented with the truffles and cream sauce, it made for a filling entree.  One cannot resist dipping the bread in the truffle cream sauce.  A must if you are going to enjoy this entree.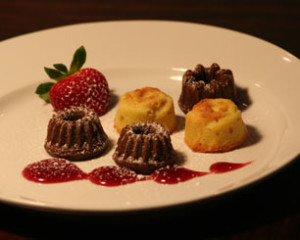 The mussel dish is very comfortable for two and can even squeeze in a third.
If you have not heard of Bistro Toulouse or have been hesitant to go, make a reservation and enjoy a relaxing breakfast/brunch or dinner.
If you have the time, enjoy one of the profiteroles, sorbet, souffle or creme brulee desserts along with fresh cup of coffee.
Hours of Operation:
Serving Dinner
Tuesday – Sunday
5:00 PM – 9:30 PM
Serving Champagne Brunch

Saturday & Sunday
11:00 AM – 3:00 PM
Serving Lunch
Tuesday -Friday
11:30 AM – 2:30 PM