Not many may know the name Steve "Skip" Skipton Sr. in passing conversation.  On August 23, less than three months after his diagnosis, Skip passed away from complications due to lung cancer.  Leaving behind a caring wife and four beautiful children,  Skip left a legacy that stretches from his colleagues on the Goose Creek Fire Department to his friends and partners for UMDNJ in Camden City and Newark, New Jersey.  As a 9/11 EMS First Responder, Skip was one of the many brave heroes that worked tirelessly in the chaos and mayhem to selflessly take on acts of courage that are still honored today.  His unyielding commitment to family, patriotism, honor and preservation of life were ones he carried with him until his dying day.
To touch a life is a rare gift, but to touch the lives of some many is a legacy that his wife Jen, his children and all his friends and family will carry in their hearts for the rest of their lives.
As a Goose Creek Firefighter, Skip continued to give of himself with the same level of dedication to the force and the community.  He greeted you with a smile and always looked out for the safety and health of others.
"Steve was a person who always gave of himself and never expected anything in return.  If he had it and you didn't, he would share or give what he had.  He was a devoted father, brother and son.  He will be sorely missed by everyone he tooted.  He had a knack for bringing out the best in people.  He was always good for advice, a joke or a simple laugh." said friend Captain Warren Adair
Heroism, often times happens without the time to think or comprehend.  It is a momentary act followed by extraordinary action.  If you met Skip, you would find a soft and kind man, but if you listened to his stories, you would see a man brimming with courage.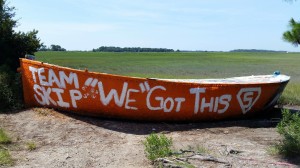 In honor of Skip and in an effort to help his family cope with the medical expenses, a group of those that were touched by his life are hosting a charity golf tournament on October 27 at Crowfield Golf Club.
They are seeking sponsors and players to rally around the community for support.  From New York to Charleston, Steve "Skip" Skipton was a model for the community and firefighters/EMT around the nation.
Let's show our true Charleston spirit and compassion and help support this cause in any way.
If you would like to support the event or the family please contact:
Troy Sanders – Crowfield Golf Club – 843.764.4618 / tsanders@cityofgoosecreek.com
Captain Warren Adair, GCCFD – 843.798.9568 / swing4steve@aol.com
Alan Sammis, Past Captain WTFD (NJ) – 856.207.6676 / swing4steve@aol.com
For More Information on Participation please click to open pdf