You may have recently gone into Jack's Cafe or past by and noticed something different.  Actually, quite a few things have changed.  The look, menu, art, chef, baker and the owner, but one thing has remained; the warm southern appeal of this diner situated between the College of Charleston and King Street on George.
The new owner, a former Boston man and now thirty year resident of Charleston, sat down with us for a few minutes to talk about some of the changes and how he found his way into owning Jack's Cafe.
The first thing I learned that as a diner owner, he did not drink coffee.  That broke down a major stereotype for me as I enjoyed my second cup of java.  I was eager to learn of the new and exciting changes that has transformed this dining fixture that has filled the bellies of students, tourists and locals for decades.
Now open seven days a week, Jack's serves up breakfast from open to close, lunch from 11:00 AM – 3:30 PM and fresh baked goods and ice cream treats to complete the experience.
As I looked for a traditional breakfast favorite to order, I as taken back by the Kitchen Sink Grits.  I am a sucker for a unique menu item not found anywhere else.  I inquired.  This meal, and I say meal, includes grits, cheddar cheese, peppers, mushrooms, broccoli, sausage, bacon, ham and topped with a fried egg.  Oh my, did that hit a spot.
Whether you want a hangover cure or a rich hearty meal, this is your item of choice.  The top layer is the fried egg and then a healthy portion of vegetables and finally penetrating protein.  The first few bites were refreshing and then the meat added that zesty kick.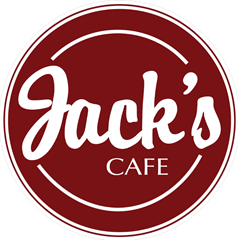 The create your own omelet gives the particular customer just what they want.  You select a cheese, vegetables and meat and it includes home fries or grits and bread.  I did sneak a few of the potatoes.  They were sauteed with just the right amount of spice.
The chef was scooped up from Homily Grill so he brings a nice resume to the table and it showed in the final product.
Overall, Jack's Cafe provides a winning combination.  Spacious seating, excellent service (especially on the refills), fantastic prices, a warm intimate diner setting and food packed with flavor and diverse range.