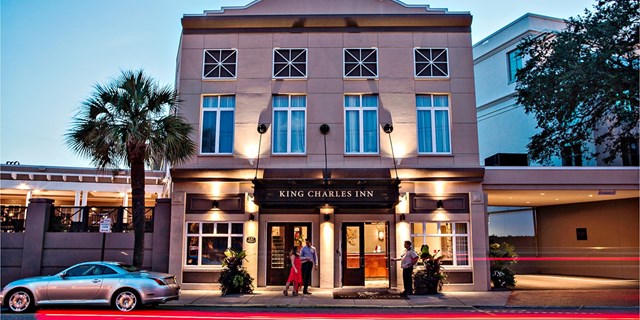 KING CHARLES INN TEAMS UP WITH CHEF BJ DENNIS FOR CHARLESTON RECEIPTS POP-UP DINNER
Benefitting the Ronald McDonald House on Wednesday, Sept. 6, 2017
Charleston, S.C. (Aug. 16, 2017) – King Charles Inn is pleased to announce a Charleston Receipts Pop-Up Dinner with acclaimed local chef and Gullah culture bearer BJ Dennis. Taking place on Wednesday, Sept. 6 at 7 p.m., the dinner will benefit the Ronald McDonald House with four courses celebrating Lowcountry classics inspired by the Charleston Receipts cookbook.
"We're huge fans of Chef Dennis and his wonderful ability to tell Charleston's storied past through family recipes," shares King Charles Inn General Manager Maureen Sheridan. "This is going to be a memorable experience and we are delighted to help our local Ronald McDonald House through event proceeds."
The Charleston Receipts Pop-Up Dinner includes:
Shrimp pie with local shrimp, tomato and brioche (Paired with dry rosé)

Fruit Salad with ginger ale gelatin, apples, pecans and nutmeg-raisin vinaigrette (Paired with chardonnay)

Braised Duck Leg with field peas, sausage purloo, seasonal greens and duck gravy (Paired with merlot)

Hugenot Torte, a classic Antebellum dessert (Paired with an Antebellum champagne punch)
"I'm excited to collaborate with King Charles Inn on this special experience," said Chef BJ Dennis. "It will be fun bringing back classic receipts to an original Lowcountry classic space."
36 tickets will be made available to the public at $75 with a portion of the proceeds supporting the local Ronald McDonald House. For more information and to reserve a seat, contact Alaina King Charles Inn at (843) 866-4700.
About the Ronald McDonald House
Ronald McDonald House is a 501 (c) (3)  non-profit, corporation that creates, finds and supports programs that directly improve the health and well-being of children. Through its global network of 300 Chapters in more than 63 countries and regions, its three core programs, the Ronald McDonald House®, the Ronald McDonald Family Room® and the Ronald McDonald Care Mobile®, and millions of dollars in grants to support children's programs worldwide, RMHC provides stability and vital resources to families so they can get and keep their children healthy and happy. For more information, visit www.rmhcharleston.org.
About King Charles Inn
Located in Charleston's famed historic district along the "Museum Mile," King Charles Inn pairs English heritage with Southern hospitality just steps from top restaurants, shopping and attractions. With 91 beautifully appointed rooms, a swimming pool and touches of 18th century charm, the Inn is suited for both leisure and business travelers alike. King Charles Inn is located at 237 Meeting St., Charleston, SC, 29401. For more information, call (843) 723-7451 or visit www.kingcharlesinn.com.
###
Sebastian Hale
Account Executive