Nestled on Upper King where the former St. Alban's used to be is Little Jack's Tavern. A quaint restaurant full of charm and that "way back when" feel. Upon walking in, I was greated by Louis Armstrong and Nat King Cole belting out jazzy tunes instantly transporting me back in time. Their decor is sort of speakeasy meets horse and kennel club with green gingham tablecloths and bright red upholstered chairs. They have pictures of Frank Sinatra and other Crooners scattered about the walls schmoozing with famous starlets. It feels like a restaurant straight out of Guys and Dolls. The old soul inside of me died and went to heaven.
I met up with my friend Charlotte for Sunday lunch there and loved the ambiance. Honestly, there weren't many people there at all and for the better part of our meal we had the whole restaurant to ourselves. However, I think their menu is more geared toward the dinner crowd. Next time I go, I will probably go back for dinner so I can try one of their delicious sounding cocktails.
For this visit however, I ordered the Vegetable Crudités served with a whipped Avocado Ranch dip and the Tavern Burger (hamburger slider with American cheese and sunchoke relish served on a sesame bun). The Crudités was made up of  rainbow radishes, green beans, carrots, heirloom tomatoes, peppers, asparagus, and romaine hearts, sprinkled with salt, and served with a delicious whipped avocado dip. It was a fun way to eat my veggies as opposed to the typical mundane side salad.
The Tavern Burger was technically a slider, but the perfect portion for me. I don't think I could have eaten the Jack's Burger (dinner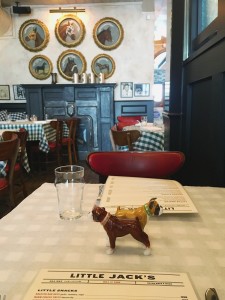 portion) without splitting it with someone. The burger itself was phenomenal. Cooked to perfection, topped with American cheese and sunchoke relish. The relish helped to balance the heaviness of the slider. I had never had sunchokes before, but turns out they are a relative of the artichoke family. After Googling "sunchoke relish" on the internet, I've come to find out that it's a very popular item in Southern pantries. The relish itself had a sweet, mustardy flavor to it that complimented the burger nicely.
Charlotte ordered the Shrimp and Farro Salad which had shrimp, peas, asparagus, pistachios, and mint tossed into it. It boasted a great flavor, but was a tad bit over salted which detracted from the overall flavor. I think if I were to order that next time, I would ask for them to go light on the salt.
Overall, I loved the ambiance, our service was spectacular (Christopher rocks!), and I would highly recommend it to anyone in Charleston. I look forward to visiting again so I can sit at the bar and indulge in one of their cocktails. I think the Brown Derby may be calling my name. Thanks for a great experience, Little Jack's! Or should I say, old sport…