Rain came down hard very quickly for a few minutes on Saturday morning as I sat inside Redux Yoga on the corner of Spring and President waiting for the 10 AM class to conclude.  I had the company of a very friendly and thirsty dog, who no doubt lingered in that hot studio for a bit longer than she should have licking every last drop of water from the bowl.  As the toned, sweaty and fulfilled clients slowly exited the studio rehydrating themselves, I was able to meet Griffin Peddicord, Owner of Redux Yoga and College of Charleston graduate for the first time in person.
Griffin won the International Bikram Competition at age 17, developed dukana, an app for peer-to-peer geo based merchandise rentals and owns the Redux Yoga studio.  How he got to this place is the real story that we found out needed to be told.
Griffin was raised by his mother with humble means after his father left at age 5 and later losing a stepfather at age 18 to a vehicle accident.  For most of his youth and adult life, she has been the family force that has guided his path.
As a youth of 12, Griffin developed an ailment that caused severe swelling in his knees.  After several diagnoses, doctors concluded Lyme Disease, severe arthritis or bone fragments.  To this day, a true reason was never confirmed.  After several rounds of antibiotics, the ailment returned.  At age 16 Griffin began a routine of aggressive yoga therapy.
Yoga helped him return to a normal lifestyle.  By this time, his obsession and passion for yoga had taken on a life of its own.  To continue having the ability to take classes, he cleaned the studio for free in exchange for studio time.
At age 17, his instructors saw his proficiency, strength and focus and recommended he compete in a yoga competition.  This competition led to a shot at internationals being held in Los Angeles, California.  Traveling through a severe Eastern snow storm, he made it to the competition with one hour to spare.
After competing, Griffin went to lunch with certainty that he hadn't placed given the scope of experience and the cultural alignment being represented from around the world.  After returning, he inquired on his status and learned he had finished in first.  This caught the eye of Bikram who advised him to take the full Bikram certification training.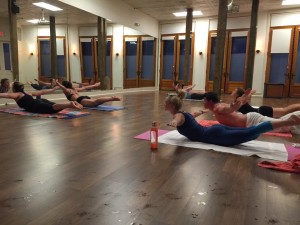 This Master Training was only offered to eligible participants twenty-one and over.  Being 17, but versatile, he felt the exception by Bikram may or may not be enough, so he found a makeshift fake ID.  It didn't work, but his reputation got him to remain and flourish.
Today, Charleston is privileged to have one of the top certified Bikram Yoga Instructors in the country.
How do you top that level of achievement?  You learn web based HTML and JavaScript coding after taking a $10.00 online course and create an app that is featured in Forbes Magazine.  Naturally.
Griffin lives in a world where mental wellness, technology, community and innovation all circulate in the same melting pot.  He sees the world in a unique way fueled by passion, innovation and the purest of all traits; sweat and determination.
His journey is only the beginning with a goal of using Redux Yoga as a launching pad for the people of Charleston to gain self-awareness, mental strength and physical well-being.
Soon, this studio will feature a retail store and in August Griffin and his team will welcome a Marine with a fused spine offering the therapy of yoga as treatment on his road to recovery.
Griffin understands a studio is only as strong as its instructors.  He sees instructors as leaders, motivators and trusted confidants.  These are the traits he feels are critical to a successful instructor and a commitment he makes to his clients.  He has included in his long-term goals an instructor training program to help develop talent locally and provide more yoga resources in Charleston.
On Earth, we have but our mind, body and soul.  A priceless collection of fine art housed in the gallery of life.  In Charleston, we have amazing stories of people that inspire.  Sometimes, you find someone who wants to change the world.  Whatever the event; whatever the catalyst, they have chosen to dedicate themselves to a greater good.
Griffin Peddicord has a gift and a rare opportunity to impart his gift on others.
We invite you to stop by the studio and just meet Griffin.  He may talk your ear off, but his stories are worth hearing and the studio and clients are a community well worth being a part of.