Sometimes you need that feel at home, shake the hand of your bartender, share a story and relax kind of bar and grill experience and other times you want an excellent customer service and fine cooked meal dining excursion.  What if you could have both?
The Original Ms. Rose's Fine Food & Cocktails offers the marriage of two.  If you ask the locals, its just good old-fashioned Ms. Roses.  From a 60 inch TV to one of the finest fried chicken, smoked meatloaf meals with horseradish slaw or grilled corn on the cob you will find in the neighborhood, Ms. Rose's has created the culture of the 50's family diner on the outside to a truly fine dining experience without the cost on the inside.
If you enter with an appetite, you must start with the honey soy whole wings and homemade biscuit.  The wings are not your playground reject wings, but rich thick meaty wings with a perfect blend of marinade and the honey soy is truly a sweet and savory coating.  The homemade biscuit will melt as it slides down your throat in a roller coaster ride of carb delight.
You are hard pressed to make a poor selection with your choice of entrees, but we would like to make a few personal recommendations to help aid in your decision.
The smoked meatloaf is a thick homemade slice of meatloaf oozing in smoky meaty tenderness, topped with horseradish slaw and BBQ sauce and complimented with a nice side.  We recommend the street vendor corn or the seasoned fries with a side of avocado sauce.  In fact, you should get a side of the avocado sauce no matter what you get.  It goes with everything.
The Rose's Fried Chicken for most is two meals.  Be careful as you will need some assistance getting up because you may be very full, but satisfied.  The chicken is buttermilk marinated and complimented with a side of Tabasco honey sauce and mac and cheese.
The Grilled Hanger Steak is grilled to perfection with garlic fondue, broccoli rabe, roasted new potatoes and blackberry jus.
We must give a warm complimentary thumbs up to their fish and chips.  They even give the true Irish cook a run for their money.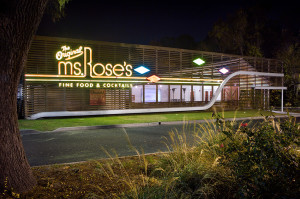 Ms. Rose's staff will make you a mean burger with options including bleu cheese, pimento cheese, fried egg and caramelized onions.  On Monday, their specialty burgers are half price for dinner.
The staff from host to server is incredibly gracious putting customer service first and always meeting all your needs with a smile.
Go for the unique diner ambiance, stay for the incredible food, warm staff and friendly community feel.
Either way, go spend some time at Ms. Roses.