In January, 2009, I took over the lower part of a duplex on the corner of Morris and Rutledge.  Without a friend, without a deep understanding of the root core of Southern culture and without a map to guide my transition, I began a personal transformation.  Rejuvenation was a common theme that sparked conversation as residents and students spoke of the changes in the air.  Often, I would go to O'Malley's, sit with Mike who stayed busy behind the bar, and enjoy a drink and light conversation.  During my time on Upper King, I enjoyed quiet nights strolling the streets in jeans and a tee and a few crazy nights singing Bon Jovi on a table top at AC's.  That sense of home adopted very quickly.
As I heard folks rehash stories of the danger and crime north of Calhoun Street, I was taken back.  How could a community so saturated with southern warmth, be stricken by crime and racial tension?  It was a different time I was told.  I was absorbed into a first account story of military action on America Street to undercover drug trading and even an undeclared program to ship out the homeless on buses out west.  Some personal stories were shared.  With each story, a feeling of belonging more and more.
In one weekend I fell in love with a town sprinkled with charm, healthy beach life, hospitality, kindness and a kick ass record store on the corner of Calhoun and King.  That record store closed just before I moved down permanently and is now the home of Chipotle, Walgreens and Carolina Ale House.  Times have changed.  Once what stood as a cornerstone of family small town urban delight is now the new Southern Time Square.
Change is good.  We never want to lose sight of an opportunity to rejuvenate.  As we evolve as individuals we become more aware, breaking down the barriers of ignorance and accepting a new perspective.  If we didn't, periods of our history like segregation and prohibition would still remain in these parts.
I fell in love with Charleston for the radiant sunrises, courtesy of strangers to one another, the structural beauty of the architecture, reflection of history, tender compassion for humanity, love of animals, respect for the farms, local businesses and Americana and the ideal that in times of need, we stand together as one.
Our culture is a day to day reminder of a proclamation our forefathers made to learn, embrace change and respect the foundations of family, home, religion and freedom.
One story will always remain with me.  On one afternoon, when a seemingly quiet day turned into a coastal storm within seconds, I saw my quiet street turn into a river knee deep.  Cars in all directions lay dormant, falling victim to the sudden downpour and flooding.  Without thought, only guided by instinct, myself and dozens of other neighbors came to the street and just helped strangers push their cars to safety one by one until all were out of harm's way.  It was an act of unselfish behavior that I will not forget.
Yet, something is happening.  We are quick to pass blame, not on ourselves but the winds of change.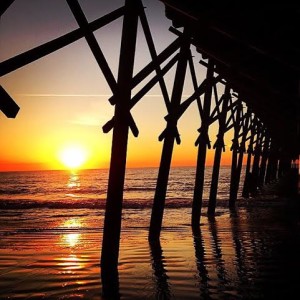 Growth is happening at a record pace.  Hospitality growth is skyrocketing like the span of hotels reaching for the stars, local home grown businesses are falling under the shadows of corporate roots, mergers are driving down competition and driving up prices, family businesses falling to corporations securing a powerful stance of influence and the traditions we love are beginning to crumble.
I go to the James Island Sunday Brunch, John's Island Farmer's Market, Folly Beach Farmer's Market and Marion Square Market not only to get fresh air, people watch and enjoy the simple moments of the day, but knowing that I am helping keep local businesses thriving.
We love the name Charleston.  Heck, we never miss an opportunity to praise ourselves.  That extends to our feelings about our neighbors, the people of Charleston: food trucks, bike vendors, family owned restaurants and bars, yoga studios, juices bars, bakeries, educators, rickshaws and so much more.
We want to continue to rejuvenate, but not at the cost of losing our identity.  I love Charleston and the people that make us who we are.  If we let growth cloud us of who we are, everyone loses.  Many think growth is good, yet basic economics dictate that growth doesn't always translate to profit and economic boost.  It raises operations costs, infrastructure concerns, supply and demand issues and quality.  There are down sides to our growth and we need to be aware and vocal.
The Spectator Hotel, who just was awarded the top hotel in the world according to the 2016 Travel & Leisure survey embodies the marriage of both growth and local community.  Each room, lobby, bar and the hallways are designed by local interior designers.  The art, provided by local artists, food and beverage accessed locally and vendor partnerships all local.  They understand that there is a small town appeal to Charleston that should never be lost.
I want to continue to rejuvenate our community, but I want our culture to remain.
For 340 years, we have fought for family and freedom, been pioneers, been the continuation of generations who have called this home and enjoyed the absolute beauty of our natural surroundings.
Let us not forget who we are.