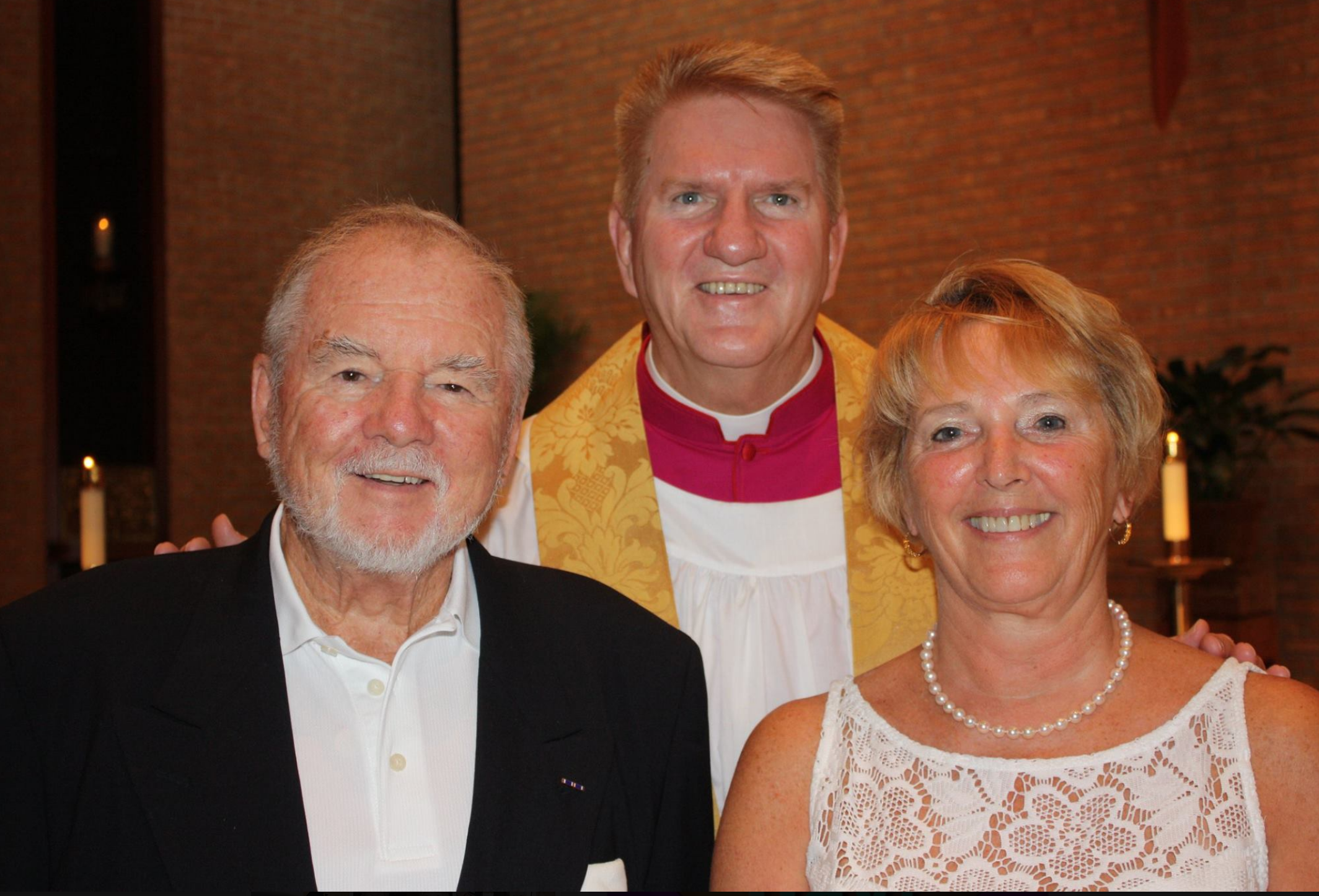 By Mark A. Leon
On June 6, 2017, at the age of 87, Summerville, SC lost a gentle giant, Thomas Francis St. Denis Sr.  In his storied military career that started with attendance in the the United States Coast Guard Academy at New London, CT; and Colorado A&M University, and ended with a military career that spanned 17 years.  At the outbreak of the conflict on the Korean Peninsula in 1951, Tom joined the United States Marine Corps as a Naval Aviation Cadet. He entered combat in 1952 as a Marine Corps second Lieutenant. He left active duty in 1954 but served in the Marine Corps Reserves until 1968.  With over 100 flights to his credit, Tom was a hero in so many eyes.
Yet, his story was only beginning and the life his created with his wife Patricia (Pat) and his family is the legacy Tom leaves behind.  It was his love for Pat, family and the circle of friends that was a testimony to his life.  Back in 2014, we were fortunate to be part of his 85th birthday party.  As we were surrounded by his friends and family and a guest to many wonderful stories, it was clear that he had made an impact on so many lives.
He once said, "I want to live to 100, then I will be satisfied".
Tom loved life.  He loved everything about it.  Each day was a celebration.  Through his passion for poetry, he absorbed the emotional side of his surroundings and saw the complete spirit of life.  As his health deteriorated, his will never did.  A fighter in the war and in life.
Tom was a kindred spirit and for those that knew him, he was a gift.
Original Article from 2014 in Celebration of Tom's 85th Birthday
On a quiet Thursday evening in a tranquil retirement community in Summerville, SC, Tom would soon be surprised to walk in on a neighborhood of friends to share in the festivities of his 85th birthday.  As his wife Patricia welcomed all the guests waiting eagerly to express their love for Tom, champagne was poured and laughter echoed off the walls. Tom is not your typical Charleston area retiree.  Draped in his Tommy Bahama attire, which he ordains on a daily basis, he smiled and sipped his beverage as one by one friends came over to give hugs and share stories.
Tom is a decorated Korean War Veteran with over 100 flights to his credit, a lover of poetry, an affinity for cars and a devotion to his Patricia. As I stayed slightly in the distance, I witnessed Tom and one of his friends thumb through a book of historic military planes.  Tom would point at those that he flew and share specifics on the logistics and design of each plane.  Though his experiences date back 63 years, his recollection was as vivid as if the events transpired yesterday.
Fascinated, I got close enough to hear but stayed just far enough away to not interfere with two buddies sharing old war stories.  Standing next to a war hero, whose talents, bravery and unconditional courage shaped the freedoms I possess, was a gift.  Later on in the evening, I looked to the table and saw what appeared to be 20 plus birthday cards, some of them filled with love and some adult humor.  With a rainbow of colors covering these envelopes, it was a testimony to the love that surrounds this man.
Tom and I got to talking about Alaska as it was one of my reference points of my latest book.  This transpired into a laundry list of homes for Tom from Alaska to Seattle to Florida along with his many international travels in the military.  Tom is a true journeyman who would inspire the likes of Dylan or Kerouac to pen stories of their adventures.  Before that night I wouldn't have thought a hard nosed military veteran who has stuffed foxes, a love of cars and a rugged demeanor would be a poetry reading, cuddly world traveler with so much life ahead of him.  He left me with much food for thought that night.
One voice from the crowd shouted, "I hope we can do this again next year."  Tom replied, "I hope we can do this for another ten to twelve years."  That zest for life was so refreshing to hear.  I try to impart on others that life is about being a part of each and every moment you can with each day being a new set of adventures and a new beginning.  The minute you feel it is too late to experience a rebirth, it is mentally over.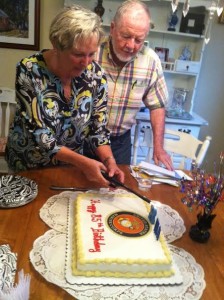 After a group rendition of "Happy Birthday" and some great cake, the festivities began to find a climax.  As the evening wound down, I volunteered to walk the two dogs who had been patiently waiting for their chance to walk and poop.  Nikki and Gertie were a treat.  Gertie is a rescue dog and a small symbol of the generous nature of Patricia and Tom.  Caring for and raising dogs who are abused or without homes has been a passion for Patricia for many years.  She volunteers and takes in dogs that have been harmed or neglected.  Also both have and continue to host medical students and offer a home away from home during the holidays to Citadel Cadets.
This was such a remarkable compliment to the passion Patricia and Tom still share after 36 enlightened years together.  As I returned from the neighborhood walk, I saw the first of the guests heading back for their one or two block journey home.  Hugs were shared, as if we were friends for years and smiled. Charleston is filled with so many stories and people whose unique backgrounds inspire this tapestry of community.  Tom and Patricia are two examples of the amazing people that make this an amazing and wonderful place to live, grow, inspire and retire.