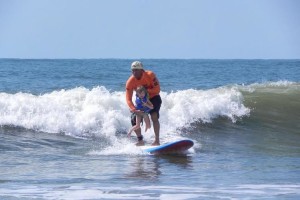 Update:  Thursday, August 25, 2016 from 8:00 AM – 6:00 PM on the beachfront behind The Tides Hotel, you will witness hundreds of surfers from around the country warming the hearts of young autistic children as they ride the waves and experience a thrill they will carry all their lives.  Come and witness this remarkable event.  Bring a tissue or two; you may shed a tear.
"I learned that courage was not the absence of fear, but the triumph over it. The brave man is not he who does not feel afraid, but he who conquers that fear." – Nelson Mandela
1 in 86 American children have been diagnosed as being on some level of the autism spectrum. This spectrum ranges based on the complexity of the disorders of brain development from difficulties in social interaction, verbal and nonverbal communication and repetitive behaviors. What many of us do not see is that each individual with austism is unique with many having exceptional visual, musical and academic skills.
The beauty is in the courage to succeed and achieve greatness. That is the incredible mission behind Surfers Healing.
"What if riding the waves meant changing the world?"
Israel and Danielle Paskowitz founded this organization to help their son Isaiah. Isaiah has autism and struggles with meltdowns and sensory overload. One day Israel, a competitive surfer, took his son out on the board. Something magical happened. He found that riding the waves with his son calmed Isaiah like nothing else had before. Since that wonderful discovery, Surfing Healers was formed and has been helping children around the United States by raising money and awareness for autism, but most importantly, giving children with autism the gift of riding the ocean waves: To experience the beauty of taking on the vast ocean and looking courage straight in the eye.
On August 20, Surfers Healing Folly Beach Camp will be taking local area children out on the boards for the 8th year. It is an event to be witnessed, shared and experienced.
Prior to the Folly Camp on Saturday, August 1 from 12:00 PM – 5:00 PM, Loggerheads Bar and Grill is hosting the third annual Benefit for Surfers Healing. This is a community event that shows the selfless caring of our residents. Surfers, non-surfers, families with autistic children and the Charleston and Folly area communities will come together to listen to music, dance, smile and raise funds and awareness for autism, research and continued events like Folly Beach Camp.  The event will include live music, raffles, silent auction, food, giveaways and a sense of generosity and caring.
Let's talk about a beautiful young lady by the name of Lilly
In 2011, Lilly stepped on her first surf board. From her smile, you can see she had more fun than fear in her heart. There are a few important things you should know about this amazing young lady:
She was diagnosed in January of 

2011 just shy of her 3rd birthday.  She was nonverbal.

Lilly loves Hello Kitty, books, and music; especially Depeche Mode and Taylor Swift. 

She is a very active little one!  Very curious about everything and loves learning. She is always in a happy mood!

Lilly did her first Surfers Healing event in 2011.
We had an opportunity to ask Lilly's mom is there was a message to parents who are raising autistic children.  Her response was very simple and telling:
"I guess what I would like to get out to the public is that you should try to let your child with autism try as many experiences as possible even if you think they won't like it or get it.  The truth is you don't know until you try it with them."
That message rings true for so many of us in life.  We fear the unknown, but are so often rewarded by the risk.  That is the true meaning behind this organization.
We invite you to join some amazing volunteers and families on Saturday, August 1 at Loggerheads for the Surfer's Healing Fund Raising and Music event from 12:00 PM – 5:00 PM
Surfers Healing – Loggerheads Fund Raiser Details – August 1, 2015 – 12:00 – 5:00
This is an event both heartwarming and rewarding.