The meat
The meat
The meat
The decadent, savory, mouth-watering meat.
Smoked Turkey – Oh my.  Smokey, flavorful and lingering
Brisket – Top notch and added to the collards
Pulled pork…mmmm mmmm good.
Folks, we got a lot of BBQ here in Charleston.
Let's just say, it is a way of life.
Some do it well, some do it ok.  Some make it fancy and some just like to get their hands dirty.
Swig and Swine, my friends, puts the upscale in BBQ and still makes you feel like you are at home.
From a process that starts long before the sun rises in the sky until the first customer for lunch, this is a way of life for a team that prides itself on great food and great customer service.
We will start with the fine selection of homemade BBQ sauces:  White based, vinegar based, mustard based, red…They will meet all your finicky needs.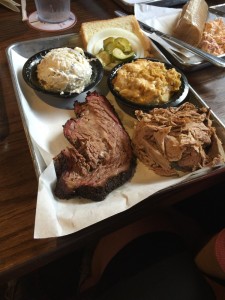 Salads.  Yes they have salads.  Make sure you add $3 for some of the great meat.
The veggies are not mixed in, but portioned throughout the plate.  You have to do some mixing if you want the diversity to hit your taste buds.
The decor is funky fun.  That is all I am saying.  Funky fun.  From a old gutted out general store to a roadside gas station, there is a feel of Southern warmth inside.
The staff.  They love their jobs.  You can just tell in their swagger.
When you walk in, the smell will hit you like a brick house.  I know, some of you got that song stuck in your head now.
Make sure you ask for a sample if you are just not sure.  They will wrangle it up for you.
Sides…Mac and Cheese, Collards and Hash…Oh Yeah!!!! Oh Oh Oh Yeah!!!
Of course, there is a bar.  A small bar, but a fine bar.  To compliment the enticing food are some great cocktails and craft beer.
Go, now and bring a big appetite