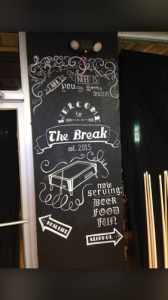 Between the Peninsula and Folly Beach are a rich traditional of restaurants, bars, an adventure course, great fresh seafood, county parks, a gym, thrift shops and more.  Just to the left as you head to the beach, there is a restaurant that provides all the necessary elements of a man cave than would even make a woman smile.
The Break on Folly Road is the perfect escape to play, drink and eat.
A few reasons you need to spend some quality time here:
Monday Night is Live Trivia – Starts promptly at 7:00 PM
A series of large screen televisions including a ridiculously large one as you enter
Outdoor patio seating when it isn't 110 degrees outside
Plenty of parking lot space to park or play cornhole
At the corner of the strip mall is Badd Kitty (Adult shop for couples and more)
Pool Tables
Dart Boards
Regulation Air Hockey
Beer Pong Video Game
Basketball Video Shoot
Competition Racing Game
NBA Jam '94 (Yes Old School)
Pinball
Tater Tot Nachos (Oh Baby good)
A fun and friendly staff
Craft Beer, a few wines and full service bar
If sixteen reasons aren't enough, I give up.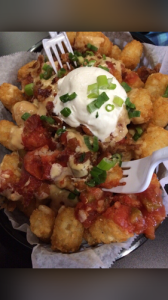 For $25.00 and a dream, you can play games, drink some good craft beer and catch a game on the big screen.
The bar is spacious offering table, bar and booth seating with separation points for the video games and pool area.
Sometimes you don't always see what is right in front of you.  The Break is no exception.  From the street, it looks like a nice stop in bar, but once you walk in you will see it is so much more.
This is a treat for Charleston/James Island and one that will not bore you.
The Break is located at 778 Folly Road, James, Island, SC
Hours:
Sunday – Thursday – 4:00 PM – Till
Friday – 4:00 PM – 1:30 AM
Saturday – Sunday – 1:00 PM – 1:30 AM