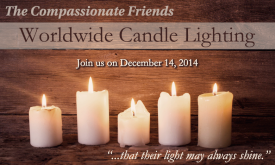 Imagine a wave of light that spreads across the globe from east to west over 24 hours and it is not the sun. The wave starts at 7:00 PM local time in New Zealand when candles are lit in memory of deceased children. When the candles are extinguished an hour later, more candles are lit in the next time zone for an hour and so on it continues around the globe, 7 PM in every time zone until it ends 24 hours later. That is The Compassionate Friends Worldwide Candle Lighting Ceremony to honor and remember deceased children.
The Compassionate Friends Worldwide Candle Lighting Ceremony (WWCLC) occurs every year on the second Sunday in December at 7 PM local time. This year the second Sunday of December is the 14th of the month.
If you don't know, The Compassionate Friends (TCF) is an international organization that provides support to bereaved parents, grandparents, and siblings. This annual candle lighting has grown from family or individual observances in the USA to ceremonies at local TCF chapters and other bereavement support groups around the globe.
I had a candle in my window the first year of the ceremony in 1997 and encouraged family and friends to light a candle in memory of my son Brian, and the memory of all other children who have died too soon. I must admit that I have not always been faithful about lighting that candle at 7 and some years the hour slips by before I remember. Of course, I don't need a candle to remember my son, but it is a good thing to have a ritual that serves as a memorial.
TCF's website, www.compassionatefriends.org, has all the information about the WWCLC including a search engine to find a location near you. The TCF website also
will host extended chat room hours on December 14 for families to post tributes on the message board. Last year there were over 4,000 posted messages from all corners of the world.
As of 12/6, there was only one TCF ceremony in the Charleston area. The Compassionate Friends of Dorchester County will have a Candle Lighting at Givhans Ferry State Park, 746 Givhans Ferry Road, Ridgeville, SC.
The program begins at 6:00 PM with the candle lighting at 7:00 PM on December 14. Contact Paula Schaefer at 843-813-9598 or Email: tcfdorchester@yahoo.com for details.
If you can't find a ceremony locally, just remember to light your candle at 7:00 PM and extinguish it at 8:00 PM. If you are fortunate enough not to be a bereaved parent, you probably know someone who is. You can support them by telling them about TCF and by participating in the WWCLC. Add the WWCLC to your calendar now and join thousands around the globe in lighting a candle at 7:00 PM on the 14th of December.