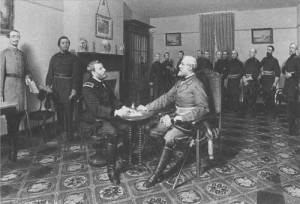 "I refuse to accept the view that mankind is so tragically bound to the starless midnight of racism and war that the bright daybreak of peace and brotherhood can never become a reality…I believe that unarmed truth and unconditional love will have the final word."
– Martin Luther King, Jr. – December 10, 1964
On April 9, 1865, General Robert E. Lee surrendered to General Ulysses S. Grant at the Appomattox Courthouse ending the American Civil War.  After four years of a fighting and a country divided, 620,000 lives were lost.  Brothers against brothers, friends against friends, families against families.  It was a period we can never forget, but one that still rings true today.  The public display of the confederate flag is still a deeply divided topic among Americans and symbolizes a period wrought with uncertainty on the future of this nation.  One hundred and fifty years later, Walter Scott perished at the hands of a North Charleston police officer.  All the facts have yet to be uncovered, but the world has made a judgement.  In the simplest terms, the most elementary view, the media has placed judgement and society has followed:  A White Cop killed an unarmed Black Man.  Justice must be served.
Between April 12 – 14, 1861 the Battle of Fort Sumter was fought.  More importantly, the first shots of the American Civil War were shot from Charleston, SC at 4:30 AM on that fateful day on April 12th.  The first shots of a war that were fought among many issues including the moral and legal implications of slavery and the separation of equality between blacks and whites.  As we mark the 150th Anniversary of the end of this bloody period of US History on the spot where it all began, we need to look just 10 miles from the grounds of those cannons to find Walter Scott's body lying without motion, hovered over by a white officer with a smoking gun in hand.
Is there symbolism or a deeper meaning at play.  Has the United States evolved since the ending of the most violent engagement in our countries history?  This is a debate fueled by black leaders, media professionals and households around the world.  Charleston has become the cornerstone of a global exercise in tolerance.
In all the media overload, it is interesting how this comparison has not yet made the forefront of the news.
How do we react to being the center of this frenzy?
How has the news of this shooting resonated around the world?
5 images about being black in America shared after Walter Scott shooting – BBC News
From Trayvon Martin to Walter Scott: Cases in the Spotlight – Time.com
Mourners remember Walter Scott, man shot by South Carolina cop – Toronto Sun
US officer charged in fatal shooting of black suspect – Deutsche Welle (Germany)
Blacks Are Killed By Police At A Higher Rate In South Carolina And The U.S. – FiveThirtyEight
South Carolina shooting: Mourners gather for funeral of Walter Scott, man killed by US police officer – Radio Australia
US police shootings: public outrage grows as video evidence takes centre stage – Sydney Morning Herald
U.S. cops face mounting calls to wear body cameras – Japan Times
The killing of Walter Scott: when the truth comes into focus – Irish Times
Juan González on Walter Scott Shooting: When Will the Police Killings of Black Males Stop? – Democracy Now
Walter Scott and South Carolina History – The New Yorker
Over time, this too shall pass.  The story itself will become archived and we will move on to another cause.  That is the way media has evolved.  We live in an age of immediacy and real-time.  What will not change are our preconceived notions and prejudices.  These were embedded long before those eight bullets went into Walter Scott and they will be long after.  From mansions, to trailer homes, we live in a country divided.  We can deny it or turn our heads to it, but the fact remains.
Charleston is an eclectic community rich in culture, music and lifestyle.  We are also a community divided by wealth and values.  We can only hope, this event does not serve as a catalyst for personal vendettas, but a pledge for peace and community.