You can often hear Daniel Scruggs before you see him. I've followed the sound of his drumming and turned to find him helping yet another Charleston child join a loud and joyous drum circle. With his expertise, the rhythm is kept well enough that the novices don't ruin a thing.
And when Daniel is playing drums in Charleston, he's doing so having brought parts of the world back with him. From Mexico, Egypt, Indonesia, Yemen, Ethiopia, to Brazil… Scruggs has made a career of his talent, friendliness and travel to both perform and teach drumming.
When it comes to drums, Daniel had a colorful (and dutiful) start. He began in The Colonial Williamsburg Fife and Drum Corps at age ten, learning the marches and techniques of the actual colonial musicians and
playing both snare and bass drum. He went on to study jazz drumming, sociology and anthropology in college and eventually, drumming led to the Brazilian martial art Capoeira. Training for years here with a talented Brazilian, Scruggs eventually came to join the oldest continuous group out of Rio de Janeiro,  Brazil, The Bonfim/Chocote de Couro Group.  He travels there frequently for training with the other members and its "Grand Master"; a man named Claudionor.
If you haven't seen Capoeira, it is the martial art with all of the cartwheels and flips, kicks and sweeps, astounding agility, and the tambourine-like instrument (the Pandero) that gives Capoeira it's distinctive sound. Developed as a means to flee slavery, it was disguised as a dance so that its practice could be hidden from authorities. There is no contact, no scoring, no winners, and players return to the familiar back and forth dance moves (called "Jinga") after performing spectacular feats. Scruggs tells me that Capoeira "Bridges the line between spectator and performer- and you are supporting the person, clapping and singing. The essence of it is inclusion is critical self-expression and use of the body." Hundreds of children in Charleston have now been exposed to this martial art, thanks to Daniel.
Scruggs also has a collection of instruments he has presented at countless schools in the area. He brings the Berimbau, an instrument also used in Capoeira, and found in parts of Africa – made of a gourd and a long stick and a wire, the west African djembe drum, and other instruments children just marvel at, like the didgeridoo of Aboriginal Australia, the Tibetan singing bowl, and Peruvian rain stick.
Here is a video introduction to his work.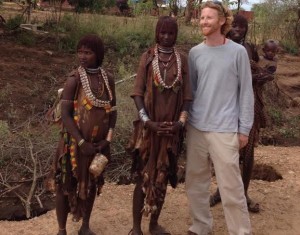 When asked why he is a dedicated to introducing new music and musical expressionism, Scruggs explains, "Music gives a voice to people that often times don't know how or can't express their feelings, it is empowering there's been countless studies on the medical benefits and the holistic well-being components of recreational music making. When people start playing together they start matching the rhythms; bringing a sense of belonging and inclusion. So it allows a person to feel empowered by creating a sense of connection – your irreplaceable part of the group and the parts are greater than the whole."
And why is Charleston so lucky? Scruggs, a life-long surfer and lover of people, thinks that having a beach near the city is ideal. And down here, he says, people have a somewhat laid-back attitude. "It's nice to have people who say good morning and hello. I like the history and the diversity of the city."
Scruggs is bringing a member of the The Bonfim/Chocote de Couro Group to Charleston in late march to do intensive workshops in the Community (contact him here for information).
All photos provided graciously by Photographer Adam Chandler and Daniel Scruggs.