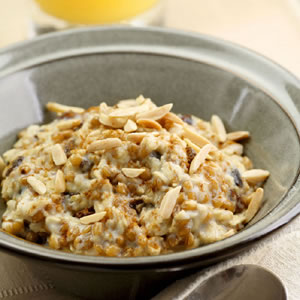 Creamy Wheat Berry Hot Cereal
Ingredients:
2 cups hard red winter-wheat berries (see Tips)
7 cups cold water
1 tsp salt
1 1/4 cups old-fashioned rolled oats
1/2 cup raisins
2 cups nonfat milk or reduced-fat soymilk
1/8 tsp salt
1 1/4 cups Cooked Wheat Berries
2 tsp brown sugar
1 tsp ground cinnamon
1/4 cup slivered almonds, toasted (see Tips)
Instructions:
To prepare the wheat berries: Sort through wheat berries carefully, discarding any stones. Rinse well under cool running water. Place in a large heavy saucepan. Add water and salt Bring to a boil over high heat, then reduce heat, cover, and simmer gently for 1 hour, stirring occasionally. Drain and rinse. (Makes about 4 1/2 cups.)
To prepare the hot cereal: Place oats, raisins, milk (or soymilk) and salt in a large, microwave-safe bowl. (No microwave? See Stovetop Variation.) Stir to combine. Microwave on High, uncovered, for 3 minutes. Stir in 1 1/4 cups cooked wheat berries and microwave again until hot, 1 to 2 minutes more. Let stand for 1 minute. Stir in brown sugar and cinnamon. Sprinkle with toasted almonds and serve. (Refrigerate or freeze leftover wheat berries.)
Tips and Notes:
Make-Ahead Tip: Cover and refrigerate the cooked wheat berries (Step 1) for up to 2 days or freeze airtight for up to 1 month.
Look for wheat berries in natural-foods markets in bulk or other near whole grains. Contrary to popular belief, they do not require an overnight soak before cooking. Simply boiling them for 1 hour soften the kernels and produces their characteristically chewy texture.
Toast slivered almonds in a small dry skillet over medium-low heat, stirring constantly, until fragrant and lightly browned, 2 to 4 minutes.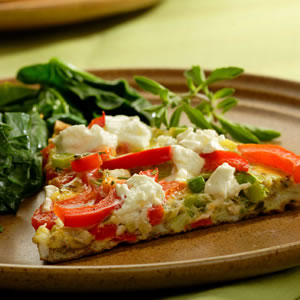 Red Pepper and Goat Cheese Frittata
Ingredients:
8 eggs
2 tbsp finely chopped fresh oregano
1/2 tsp salt
1/4 tsp freshly ground pepper
2 tbsp extra-virgin olive oil
1 cup sliced red bell pepper
1 bunch scallions, trimmed and sliced
1/2 cup crumbled goat cheese
Instructions:
Position rack in upper third of oven; preheat broiler.
Whisk eggs, oregano, salt and pepper in a medium bowl. Heat oil in a large, ovenproof, nonstick skillet over medium heat. Add bell pepper and scallions and cook, stirring constantly, until the scallions are just wilted, 30 seconds to 1 minute.
Pour the egg mixture over the vegetables and cook, lifting the edges of the frittata to allow the uncooked egg to flow underneath, until the bottom is light golden, 2 to 3 minutes. Dot the top of the frittata with cheese, transfer the pan to the oven and broil until puffy and lightly golden on top, 2 to 3 minutes. Let rest for about 3 minutes before serving. Serve hot or cold.
Tips and Tricks
Make-Ahead Tip: Let cool, cover and refrigerate for up to 1 day; serve cold.
Black Bean & Chipotle Tostadas with Creme Fraiche
Ingredients:
8 5- to 6-inch corn tortillas
* Canola oil cooking spray
2 tbsp extra-virgin olive oil
1/4 cup sliced garlic
2 cups cooked or canned, rinsed black beans, (see Tip)
1/2 cup water
1/2 tsp salt, divided
1/4 tsp ground chipotle pepper, plus more for garnish
6 large eggs
2 large egg whites
1/4 cup low-fat milk
1/4 cup finely chopped white onion
1/4 cup chopped fresh cilantro
3 tbsp crème fraîche, or sour cream
Instructions:
Position racks in upper and lower thirds of oven; preheat to 375°F.
Coat tortillas on both sides with cooking spray. Place on 2 baking sheets. Bake, turning once, until light brown, 12 to 14 minutes.
Meanwhile, heat oil in a large saucepan over medium heat. Add garlic and cook, stirring, until just beginning to brown, about 1 minute. Add beans, water and 1/4 teaspoon each salt and chipotle. Mash the mixture with a potato masher or large fork to the consistency of a chunky puree. Cover to keep warm and set aside.
Beat eggs, egg whites and milk in a large bowl. Coat a large nonstick skillet with cooking spray and heat over medium heat. Add the egg mixture and the remaining 1/4 teaspoon salt and cook, folding and stirring frequently with a heatproof rubber spatula, until almost set, 2 to 3 minutes.
To assemble tostadas, spread each tortilla with about 1/4 cup bean mixture. Top each with 1/4 cup scrambled eggs and sprinkle with chipotle pepper, if desired. Serve garnished with onion, cilantro and a small dollop of crème fraîche (or sour cream).
Tips and Notes:
Tip: To cook beans from scratch
1. Pick over 1 pound dry beans to remove any pebbles or broken beans and rinse well under cold water. Place in a large bowl, cover with 3 inches of cold water and soak for 4 to 24 hours.
2. Drain the beans and place in a large pot and add enough cold water to cover them by 2 inches. Bring to a boil, skimming off any debris that rises to the surface. Reduce the heat to low and simmer gently, stirring occasionally, until the beans are tender, 1 to 2 hours (cooking time will vary with the type and age of the bean). When the beans are nearly soft, stir in 1-1 1/2 teaspoons salt, to taste. Makes about 6 cups. Refrigerate leftover beans (in the cooking liquid) for up to 4 days or freeze for up to 3 months.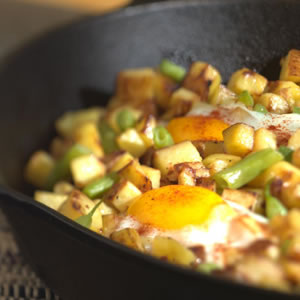 Crispy P0tatoes with Green Beans and Eggs
Ingredients:
1 cup fresh or cooked green beans, cut into 1-inch pieces
2 tbsp extra-virgin olive oil
2 lbs boiling potatoes, peeled and cut into 1/2-inch dice, or 5 cups diced cooked potatoes
2 cloves garlic, minced
1/8 tsp crushed red pepper
1/2 tsp salt
* Freshly ground pepper, to taste
4 large eggs
* Pinch of paprika, (optional)
Instructions:
If using fresh green beans, cook in a large saucepan of boiling water until crisp-tender, about 3 minutes. Drain and refresh under cold running water.
Heat oil in a large nonstick or cast-iron skillet over medium heat until hot enough to sizzle a piece of potato. Spread potatoes in an even layer and cook, turning every few minutes with a wide spatula, until tender and browned, 15 to 20 minutes for raw potatoes, 10 to 12 minutes for cooked. Stir in the green beans, garlic, crushed red pepper, salt and pepper.
Crack each egg into a small bowl and slip them one at a time into the pan on top of the vegetables, spacing evenly. Cover and cook over medium heat until the whites are set and the yolks are cooked to your taste, 3 to 5 minutes. Sprinkle the eggs with paprika, if desired, and serve immediately.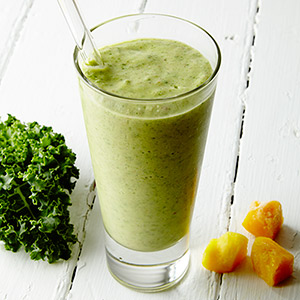 Mango Coconut Green Smoothie
Ingredients:
1/2 cup coconut water
1/3 cup low-fat cottage cheese
1 cup chopped kale
1 cup frozen banana slices (about 1 medium banana)
1/2 cup frozen mango
1 tbsp flaxseed or flaxmeal
1-2 tsp pure maple syrup or honey (optional)
Instructions:
Add coconut water and cottage cheese to a blender, then add kale, banana, mango, flaxseed (or meal) and sweetener (if using); blend until smooth.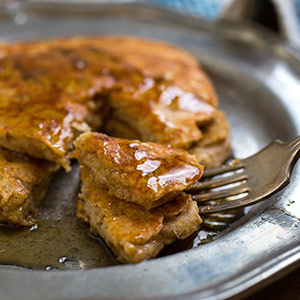 Gingerbread Pancakes
Ingredients:
1 1/2 cups white whole-wheat flour (see Tips)
2 tsp baking powder
1 1/4 tsp pumpkin pie spice
1 tsp ground ginger
1/4 tsp baking soda
1/4 tsp salt
1 large egg
1 1/2 cups buttermilk (see Tips)
1/2 cup unsweetened applesauce
2 tbsp canola oil
2 tbsp molasses
1 tbsp sugar
1 tsp vanilla extract
Instructions:
Whisk flour, baking powder, pumpkin pie spice, ginger, baking soda and salt in a large bowl. Whisk egg, buttermilk, applesauce, oil, molasses, sugar and vanilla in a medium bowl. Make a well in the center of the dry ingredients, add the wet ingredients and whisk just until combined. Resist overmixing—it will make the pancakes tough.
Let the batter sit, without stirring, for 10 to 15 minutes. As the batter rests, the baking powder forms bubbles that create fluffy pancakes and the gluten in the flour relaxes to make them more tender.
Coat a large nonstick skillet or griddle with cooking spray; heat over medium heat. Without stirring the batter, measure out pancakes using about 1/4 cup batter per pancake and pour into the pan (or onto the griddle). Cook until the edges are dry and you see bubbles on the surface, 2 to 4 minutes. Flip and cook until golden brown on the other side, 2 to 4 minutes more. Repeat with the remaining batter, coating the pan with cooking spray and reducing the heat as needed.
Tips and Notes:
Make-Ahead Tip: The mixture of dry ingredients can be stored airtight for up to 1 month; the batter can be refrigerated for up to 1 day; cooked pancakes can be frozen airtight, in a single layer, for up to 3 months. Reheat in the microwave or oven.
White whole-wheat flour, made from a special variety of white wheat, is light in color and flavor but has the same nutritional properties as regular whole-wheat flour.
No buttermilk? You can make "sour milk" as a substitute: mix 1 tablespoon lemon juice or vinegar to 1 cup nonfat milk; let stand for about 10 minutes before using.
Recipes Provided by Zipongo