"Ghosts appear and fade away; ghosts appear and fade away; ghosts appear and fade away" hauntingly echoed through the hallowed Charleston Music Hall as Colin Hay, accompanied only by his four guitars ended his version of Overkill to a thunderous ovation.  With his childish smile, surrounded by his grey beard and millions of miles of touring worn on his face, Colin Hay delivered an inspiring evening of storytelling, music and reflection.
From the familiar sounds of Down Under to the inspiring oratory lyrics of Better Man and Long Way Home, Colin Hay brought thirty-eight years of musical journeys to the stage.  During his one hour and forty-minute set, he reminded the audience of the importance of family, the whispers of timing passing and the value of love.  His personal path is vividly told in his folk-like lyrics.
With the backdrop of photos and videos, Colin Hay took you back to your childhood with the familiar sounds of Men at Work to his inconspicuous years out of the limelight to a resurgence with the soundtrack contribution to Garden State.
At the conclusion of his set, after he belted Next Year People, the title track to his latest album, he proceeded to put his suit jacket on over his vest and bowed center stage.  The entire audience rose in a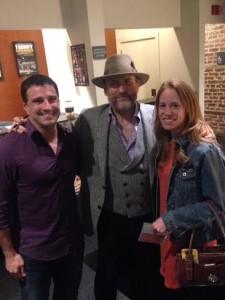 theater wide standing ovation.  It was a glorious and humble moment wrapped into one.
In the truest fashion of an artist who knows the strength of a career is in the power of his fans, Mr. Hay met with fans for autographs and pictures until the last one vacated the venue.
What made the performance so memorable, was not only the music and lyrics, but the story behind the music.  Like a grandfather, comfortably resting on his recliner and two grandchildren on his lap, he shared stories of personal time with his mother, playing in front of two billion people during the Olympics and losing the relationship with his record label.
Perhaps one of the most emotional moments came when his shared that he never got closure before his father passed.  He described the man as a romantic and played an instrumental entitled Goodbye Romeo as a tribute.
By the end of the evening, you felt a better connection to life, the world and the value of family and relationships.  His has called home Australia and Los Angeles, but tonight, his home was with us on stage in Charleston.