It was a quiet morning on the Folly Beach pier.  Fisherman, young and old were preparing for the Memorial Day fishing tournament and the site of patriotism flew all the way to the ocean.  The stars and stripes ordained each side of the pier as you walked to the Edge of America.  Waters were calm, joggers were leaving their footprints in the sand and the wind penetrated the souls of the flags, reminding us of our gift of freedom.
Memorial Day in Charleston holds a special meaning for active military, veterans and families and the entire neighborhood.
This afternoon at Marion Square, the community was greeted with an orchestra show of old and new military themed tunes.  Some brought back old memories of younger days at the USO dances, while others closed their eyes and took in the soft soul wrenching sounds of Band of Brothers.
As I listened to the band belt out 75 years of patriotic tunes, I watched young boys and girls play catch, Frisbee or dig in the dirt.  It reminded me that on this day, we remember those that secured the future and safety of our next generation.
Charleston is a rich port town, whose military ties run so deep, they are a part of our foundation.  From the H.L. Hundley to the USS Yorktown; Charleston Naval Shipyard to the Boeing Military Support; The Citadel to Fort Sumter, Charleston's heritage is one of pride and community.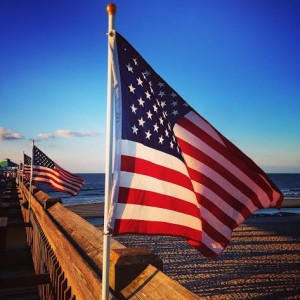 It was with a deepened heart that I watched veterans of foreign wars listen to the sounds that gave them comfort during trying times.  I also knew, that as they listened, they remembered their brothers and sisters that fell as part of the ultimate sacrifice.
They gave their freedoms that we and our children and children's children can secure a future safe from destruction, tyranny and prejudice.
Throughout the peninsula and surrounding areas, families showed their support with flags draping from porches all throughout the Lowcountry.
This week left me with a sense of pride and an opportunity to say thank you, Charleston.