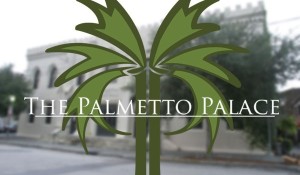 Established in 2006, the Palmetto Palace will not shine on the cover of a magazine or seek out the spotlight, but what their mission defines is the cultural infrastructure of the Charleston community.  Developed as a family care program, Palmetto Palace assists families of hospitalized critical care patients with the basic necessities and financial assistance necessary to focus their time and efforts on caring for their loved ones.
Healthcare crisis is a difficult physical and emotional time for all of us.  Many South Carolina families do not have the financial resources for healthcare and lodging and this is where Palmetto Palace steps in to provide that extra shoulder to lean on.
How does the Palmetto Palace assist families?
Financial Assistance – Hotel vouchers for families and meal coupons.
Care Packages including everyday toiletries which may have been forgotten during a critical situation.
Partnerships with local restaurants and hotels to provide cost effective means of lodging and eating for families of patients with extended hospital stays.
This organization relies on countless hours of volunteerism to raise funds, establish partnerships and meet families with compassion, warmth and assistance.
Their unyielding commitment to help those that are struggling to deal with overwhelming adversity is part of what makes them special.  Their staff treats each and every person with the same level of respect and their admiration for each dollar raised is genuine and pure.
During the Spring of 2011 and Spring of 2012, The Palmetto Palace providing financial assistance to pay for 149 hotel nights, 1700 hospital meal vouchers and distribution of 1400 care packages to local ICU waiting rooms.  Their efforts continue today.  This is only the tip of the potential.  Their ability to continue is through the kindness of those that volunteer and donate to the cause.
The strength of this foundation is heavily based on awareness.  We are doing our small part to partner with The Palmetto Palace to help Charleston become aware of this wonderful organization.  In a community driven by warmth, it is refreshing to see an organization that is dedicated to help families in their most desperate time of need.
On Thursday, October 16th, 2014, The Palmetto House will be hosting The Palmetto Palace Hearts for Hospitality Bachelor / Bachelorette Auction at the Charleston Music Hall.  This is their most aggressive fund raiser and one they hope will help this foundation continue to support more and more families.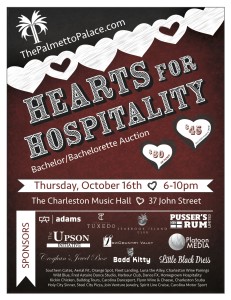 We invite you to come and support a very worthy local cause.  If you cannot attend and would like to donate time or financial support to this foundation, click here to more information or call or email directly at 843.532.3169 / thepalmettopalace@gmail.com 
Thinking of all the families who deal with health emergencies each and every day, it is truly a blessing to know there is an organization that is there to help.